Wedding Car Hire – Romford, Essex | Abbey Weddings
Wedding Car Hire Essex
Abbey Weddings have been supplying affordable wedding car hire in Essex, London, Kent, Surrey and Hertfordshire for over 30 years. We have a large fleet of luxury top of the range modern executive, traditional and classic vintage wedding cars. We are the longest established and most experienced luxury, vintage and classic wedding car hire company in Romford.
Abbey Weddings wedding cars are very reasonable priced offering great value for money. We provide luxury wedding cars for your special day all year round​. If you are after luxury, classic or vintage we have the perfect wedding car for you. We will provide you with the best wedding car hire service possible.
We offer a professional, friendly, courteous and helpful service from beginning to end.
Arrive in style in one of our superb Rolls Royce Phantoms or Ghosts. Top quality chauffeur driven wedding car hire Essex, Bentley Mulsanne, Continental Flying Spurs, classic Rolls Royce Shadows and Clouds, vintage Rolls Royce Hooper, Beauford vintage style convertible, Mercedes, Chrysler, Jaguar, Daimler and American Stretch Limos. How about a white London Taxi cab for your wedding car? we have a choice of three different styles, theses Taxis have much more space than an ordinary car. New cars arriving all the time, if you can't see the car you want give us a call, I'm sure with our contacts we can source it for you.
Our chauffeurs are reliable, experienced and professionally trained in the wedding car hire industry. Their courteous manner and smooth driving will calm the most nervous bride and groom. All our wedding cars serviced on a regular basis, ensuring that they are maintained to the highest of standards.
All our wedding cars will arrive in immaculate condition inside and out and will be decorated with ribbons if required.
Our wedding cars have been featured on "Don't tell the bride", "Say yes to the dress", " The only way is Essex," (TOWIE), BBC Panorama, "Curvy bride boutique" and Channel 4 Dispatches program to show quality chauffeur car hire. The prices quoted are for up to 3 hour hire in a 10 mile radius of Romford.
Any car can be booked by a £75 non refundable deposit payable by cheque, cash, bank transfer or PayPal. Balance is due 14 days before the wedding or cash on the day by prior arrangement, for more details please email me at garyd24@hotmail.com. All photograph and video by Abbey Weddings, see our photography page for great deals on wedding photography Essex. If your wedding is postponed due to Covid lock down, we will move you to a new date free of charge.
All wedding cars may be booked individually or as a money saving package that can include any other car, photography and video and DJ for fantastic savings. Please see our other wedding service pages showing photography, videography, DJ and wedding packages. We truly believe Abbey Weddings offer the finest Essex wedding car hire service available.
We have a great selection of vintage and modern luxury cars for your big day…
Rolls Royce Phantom
Rolls Royce Phantoms available in white, silver or black
Latest Luxury Models including new Phantom Eight.
Extended wheel base for added legroom and comfort
Starlight Headliners in rear
Stunning white coach work
 Rear doors have hidden umbrellas
Full Soft Leather Interior
Heated Rear Seats
Climate Control
Air Conditioning
First-class comfort, refinement and style, our most sought after car
Prices from: £475 3 hour local wedding
ROLLS ROYCE PHANTOM
WEDDING CAR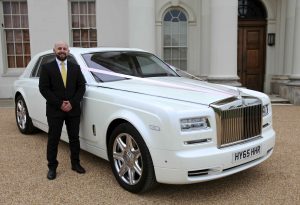 Bentley Continental Flying Spur
The Bentley Flying Spur is a luxury 4 passenger sports car with lovely leather and a rich wood interior
Prices from: Mon/Fri £375 Sat/Sun £395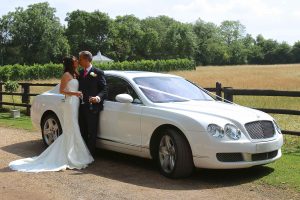 White Mercedes AMG S Class
Superb Mercedes wedding car, every extra. Our Mercedes S Class is the long wheel base version, with reclining rear seats, rear electric blind, perfect for the brides big wedding dress.
Prices from Mon/Fri £275 Sat/Sun £295
Chrysler Limousine
Often called the baby Bentley this superb Chrysler Limo is available in white or silver, holds 8 passengers.
Prices from: £395
White TX London Taxi Cabs
Classic shape white London Taxi Cab, seats up to 5 adults and a child under 10 years old. These white London Taxi cabs offer easy access from their wide rear doors and plenty of space for the biggest wedding dress.
Prices from: Mon/Fri £250 Sat/Sun £295, book two from £490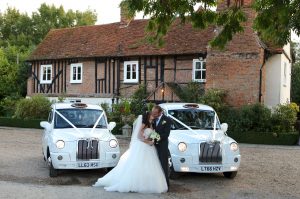 Rolls Royce Vintage Wedding Car
This car is based on the Essex / London borders, due to it's age will only travel 15 miles or so
Mon/Fri £475 Sat/Sun £495
White Fairway London Taxi Cab
Classic shape white London Taxi Cab, seats 5 passengers, affectionately known the world over as the "black cab", our Fairway London Taxi cab has large rear opening suicide doors, perfect for the big wedding dress. Very spacious interior, also available in black or red.
From £325
White Rolls Royce Silver Shadow
Mon/Fri £275 Sat/Sun £295
Great value classic Rolls Royce Shadow seats 4 passengers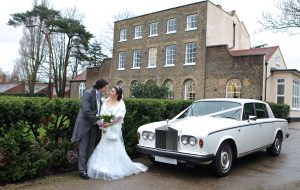 Silver Jaguar S-Type Wedding Car
Classic silver S-Type Jaguar wedding car. Seats 4 passengers, black leather interior
From £295
Mercedes V Class Luxury People Carrier
Holds up to 7 passengers, leather interior, air conditioned
Mon/Fri £295 Sat/Sun £325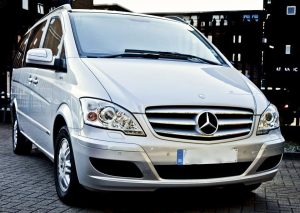 Bentley Mulsanne
Bentley's superb latest modern luxury wedding car available in white,cream or black.
From £395
White Hummer Limousine
Holds up to 16 passengers
From £450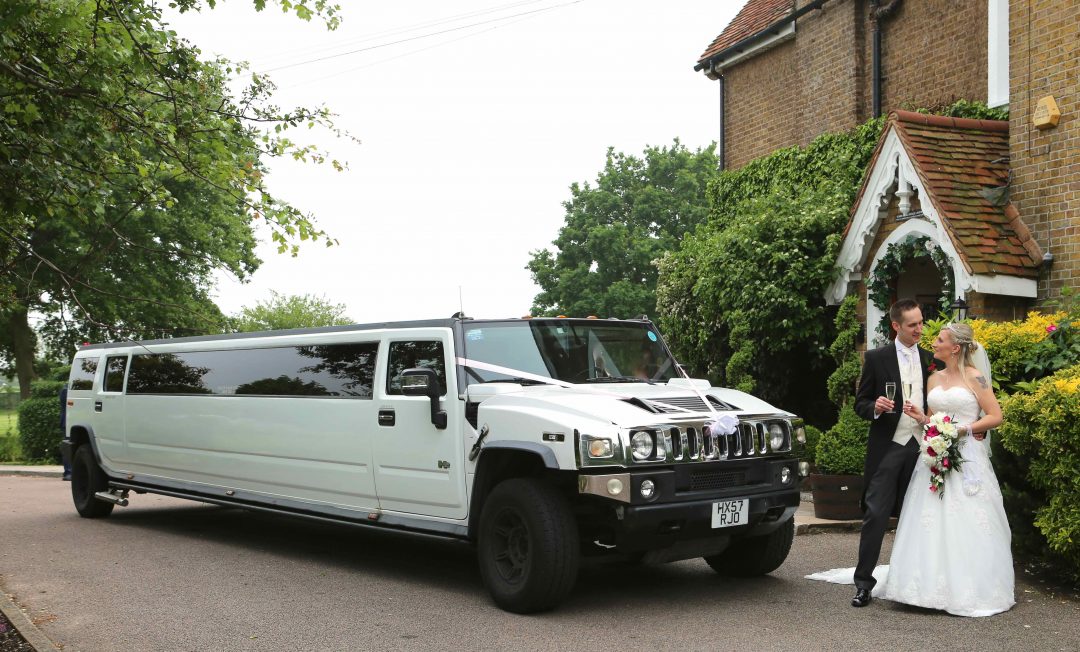 White Electric EV Taxi
New model Electric EV London Taxi Cab, completely silent on electric, eco friendly, large panoramic roof, holds 6 passengers From £325
Beauford Limousine
Only one in the country, 6-7 passengers, matches the Beauford Tourer from £450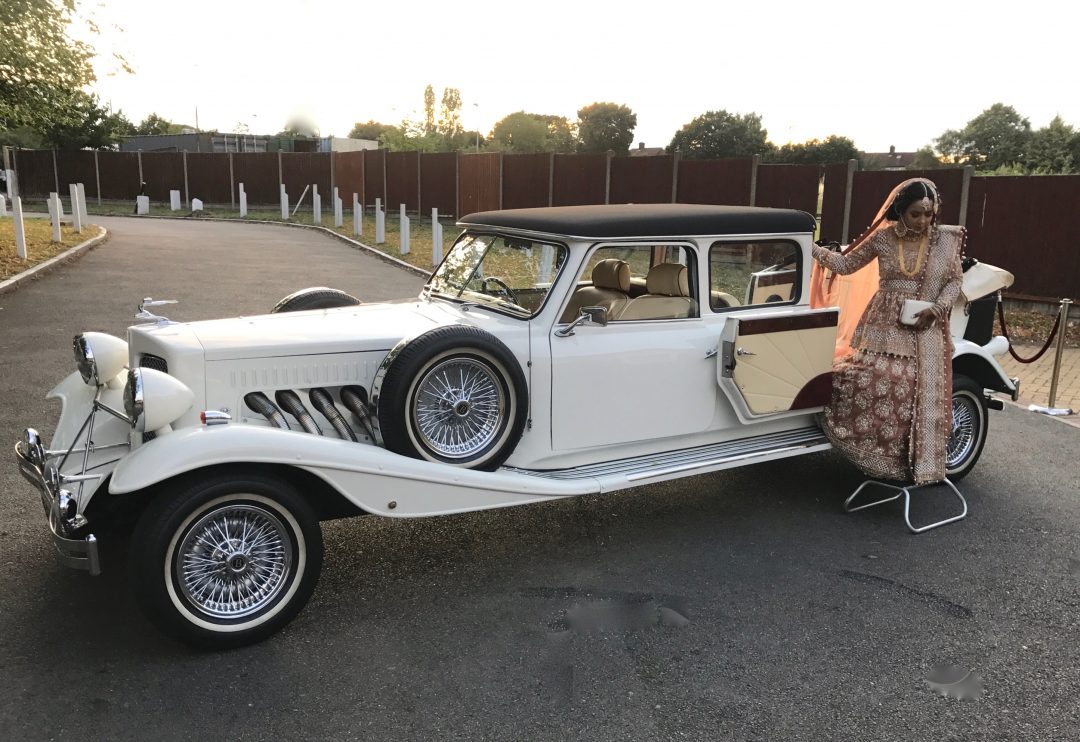 Badsworth
Vintage style car 4 passengers
from £375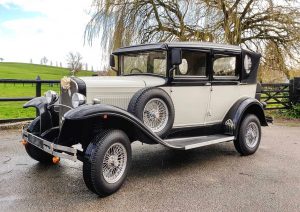 Imperial Viscount
Beautiful vintage style wedding car holds 6 passengers
from £395
Silver Mercedes S Class Wedding Car
Modern silver luxury Mercedes AMG S Class wedding car. Beautiful leather interior with contrasting leather dash, seats 4 passengers
from £325
Rolls Royce Ghost
Prices from: £475
White Rolls Royce Ghost latest model, sleek and sporty modern luxury wedding car seats 4 passengers in comfort

Regent Vintage Style Wedding Car
Seats up to 6 passengers, roof folds down at the rear
Prices from: Mon/Fri £395 Sat/Sun £425

Chrysler Wedding Car
Prices from:£295 Superb luxury Chrysler also available in white
Vintage Style Beauford Tourer
Our 1930s style vintage Beauford wedding car is a 4 door open top tourer and is ideal for both summer or winter weddings. This superb Beauford wedding car is finished in old English white, cream interior with contrasting red piping and a black convertible hood.The Beauford has stunning looks and appearance, ideal for your wedding photos.The Beauford vintage style wedding car is the perfect choice for any bride on her wedding day.
Prices from: Mon/Fri £375 Sat/Sun £395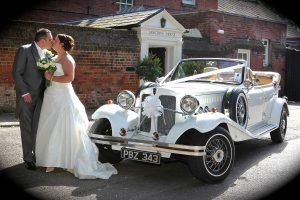 White Daimler DS420 Limousine
Seats up to 7 passengers, The Daimler Limo is a very popular classic wedding car,
From £350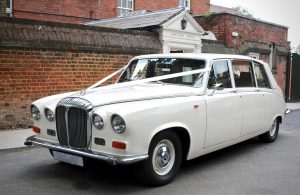 White Rolls Royce Silver Cloud Wedding Car
Mon/Fri £450 Sat/Sun £475. one of the most timeless of all Rolls Royce cars with its graceful curved lines, long bonnet and Rolls-Royce radiator grille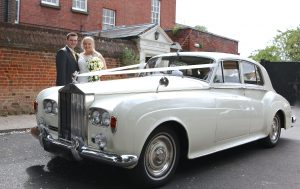 Gold Rolls Royce Silver Shadow Wedding Car
Mon/Fri £275 Sat/Sun £295. Rare Gold Rolls Royce, 4 passenger.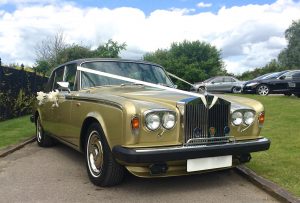 Daimler Sovereign XJ6 Wedding Car
Classic Jaguar/ Daimler XJ6 wedding car. White with ox blood red interior .4 passenger
Mon/Fri £275 Sat/Sun £295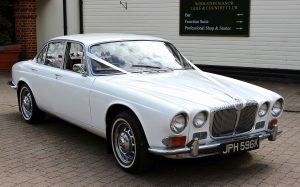 Chrysler Voyager Luxury People Carrier
Luxury 6 passenger, chrome Bentley grill, leather seats, air con, tinted windows, electric doors, ideal bridesmaids or groomsmen
Mon/Fri £250 Sat/Sun £295
Bramwith Wedding Car
Vintage Limo style black + Ivory 7 seater.white wall tryes, running boards,large headlamps, perfect for the big wedding dress and bridesmaids.
From £450
American Stretch Limousine Wedding Car
Luxury Lincoln 8 passenger modern American Limousine
Mon/Fri £325 Sat/Sun £350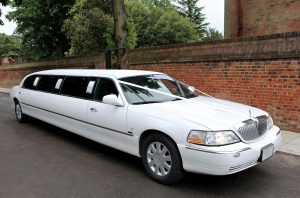 White Ford Tourneo Luxury Modern People carrier
8 passengers, 2 tone grey leather seats, air con, seat belts
From £195
Jaguar Mk2
Old English white, wire wheels, inspector Morse classic car
from £350
Mercedes Limousine
Mercedes white 6 door modern limousine holds 7 passengers
from £295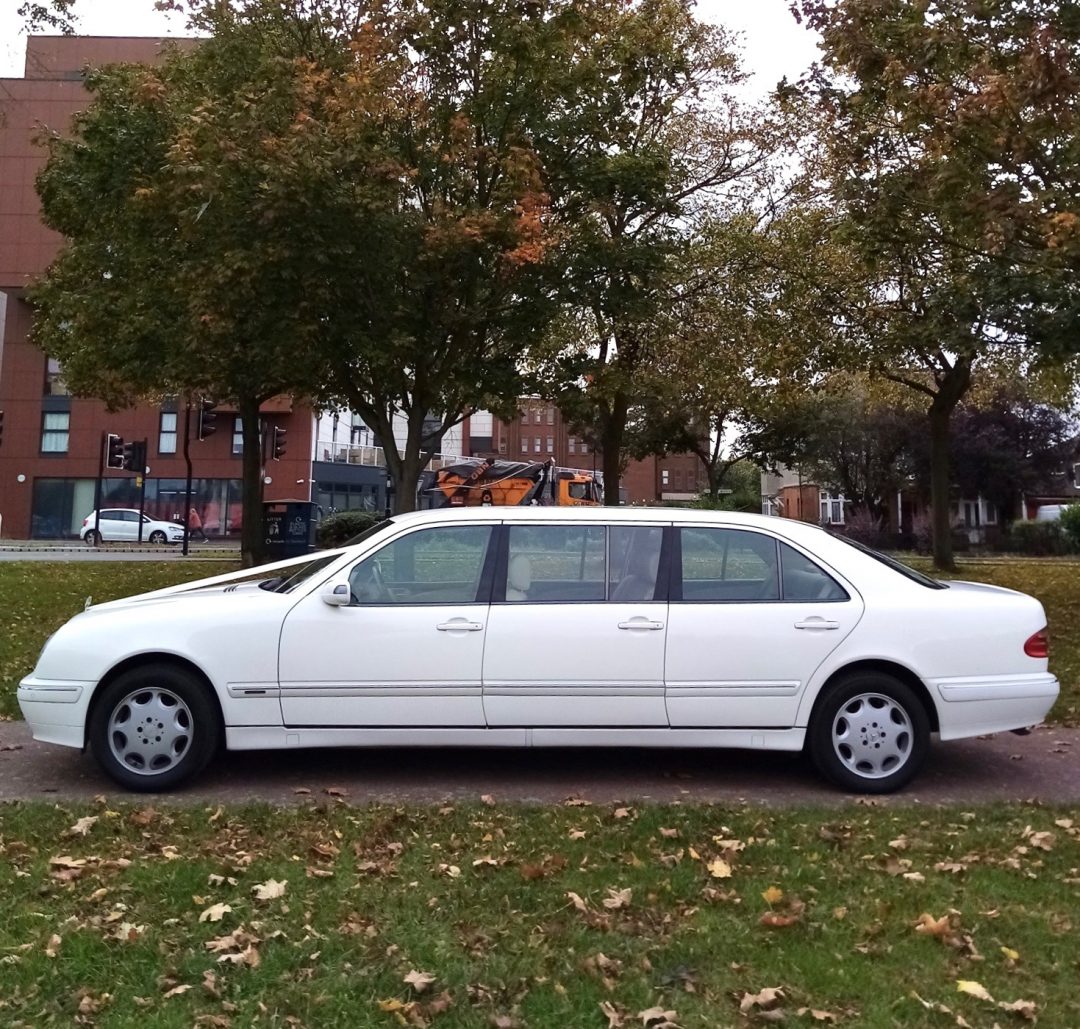 Jaguar 6 Door Limousine
Jaguar XJ Limo, 6 door white Limousine, cream interior, 7 passengers
from £350
Wedding car hire based in Romford bordering Essex and London,we are only 2 minutes drive from the M25 motorway so we cover Essex, Kent, Hertfordshire and London very easily. All wedding cars can be booked with any photographic and video service for a money saving and convenient affordable wedding package. We are happy to arrange appointments for you to view any vehicle. The cars shown on our website are the actual vehicles provided for your wedding day although we have several models of the most popular cars. They come complete with ribbons of your choice. All vehicles are chauffeur driven. A £75 non refundable deposit secures any wedding car, £150 for two or more services. Please email: garyd24@hotmail.com for more details. Our modern luxury wedding cars are fully licensed and are available for prom hire.
We believe our wedding car hire offers great value, if by chance you do get a cheaper quote for the same car, we will do our best to beat it!. We are the only wedding company based in Romford London / Essex that offers cars, photography, videos and DJ hire under one roof. Make sure your wedding day is one to remember by contacting Abbey Weddings.
Book Early to avoid disappointment
Abbey Wedding cars
Wedding Car Hire Romford Essex
Supplying wedding cars to Romford, Hornchurch and all of Essex, Hertfordshire and East & North London
Check out our specialist Essex Wedding Car Hire Site with our latest vehicles
http://www.weddingcaressex.co.uk
01708 376028 | 07956 522026   garyd24@hotmail.com
Whether you are looking for wedding photography in Essex or maybe a luxury wedding car to arrive in style, we offer a range of wedding services to make your big day the best it could possibly be.
Portfolio Abbey Weddings
GET A QUOTE